Commercial Grille
For our customers in commercial settings, we offer robust and dependable return air and air conditioning grilles and registers. Both our timber and aluminium grilles are made to stand the tests of time, giving you a durable product that doesn't cost the earth.
If you need new grilles installed at your commercial premises urgently then let us know. As a local Melbourne-based manufacturer we can do everything possible to provide your new commercial grilles within a fast timeframe.
Exterior Aluminium Grilles and Louvres
Our aluminium louvre grilles can be fitted in both interior and external settings. The external grilles and louvres are weatherproof and fitted with a bird wire mesh as standard to deter nesting birds or vermin.
Specify the dimensions that you need, rather than having to 'make do' with a standard size grille, and choose a natural anodised or powder-coated finish according to your needs.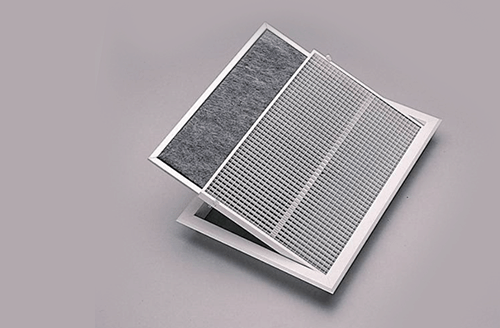 Indoor Aluminium Louvre Vents and Grilles
Our indoor aluminium louvre vents and grilles provide an attractive option for residential and commercial premises alike. The clip out centre provides easy access for filter removal or cleaning. We highly recommend including a filter in the design, as these easy-to-clean, high-performing filters are guaranteed to last a lifetime, they provide a superior alternative to disposable air filters.
Hinged Eggcrate Commercial Filter Grilles
When it comes to our hinged eggcrate filter grilles, simplicity is the key. Easy to clean and highly effective, these hinged designs can be fitted as either domestic or commercial grilles. Made to order in custom shapes and sizes, they can be fitted as a return air wall grille, and with the loose core option available, the eggcrate grille can be fitted as a ceiling grille as well.
The snap-in clips that are provided as standard eliminate the need for glue or screws, while the simple hinged design makes filter cleaning a breeze.
Double Deflection Wall Registers, Grilles, and Louvres
The separate rows of vents in our double deflection wall registers give both residential and commercial customers complete control of their environment. Because the front and rear vanes can be adjusted separately, air-conditioned air can be dispersed more effectively and efficiently, travelling overhead and mixing with the air already in the room, rather than creating those unbearably cold or stuffy zones directly in front of and surrounding the vent.